While moving house, I landed on a fun game to speed up the clearout: how old is that very old thing? There was a lamp from an ex. At the back of the fridge, an open tube of tomato puree from 2019. And then there was the "white" towel, bought by my mother in around 1986.
Kristoffer Juhl, co-founder of Danish homeware brand Tekla, knows all about this. Growing up, he says, "you just bought the towels your mother told you to buy – or even the towels your mother gave you". And that was for most of your adult life. If you were lucky, it was the White Company; for me, it was John Lewis. These towels followed you from university, to your first houseshare, to your last breakup. "There was simply nowhere that specialised in nice towels that you'd want people to see," he says.
Juhl co-founded Tekla in 2017 with Charlie Hedin, formerly of Acne Studios. The idea was to sell very nice, very everyday things to chic Danes who cared about their homes. Bed sheets, flannels, pyjamas and blankets, all in muted tones. Now, they've expanded this to 25 colourways – most popular is something close to NHS blue – making Tekla one of Copenhagen's most recognisable brands. During the summer months, everywhere you look, girls will be cycling in striped Tekla pyjama shorts, while men sip beer in square-necked navy Tekla pyjamas (yes, outdoors). On the Copenhagen harbourfront at Islands Brygge, Tekla towels line the wooden jetty – and it's entirely plausible that these people will go home to sleep in Tekla sheets. The overall effect is somewhere between a dapper uniform and a benign cult. Recently, it's migrated into Europe, with plans to open a shop in London.
It was the towels that grabbed me though, when I visited their big, new store on Vognmagergade, a busy road in Copenhagen lined with curated graffiti and design shops. Thick but not heavy, they come in buttery creams and yellows, or deep greens and stripes, and sit neatly folded on shelves within recessed walls as if they were cashmere sweaters. "There are a lot of tricks in luxury that we thought about – like if you go to Hermès to buy a scarf, they keep most of them in drawers," he says. Little wonder Tekla's wares have also infiltrated the bathrooms of Alexa Chung and Harry Styles.
It was only following the pandemic that Juhl realised that "bathrooms are the forgotten room of our homes", he says. Rooms changed functions: living rooms became offices, kitchens became schools. "The bathroom was the only private room left, the one with a lock on the door, so I think we all changed what we put in them."
This shift led to what is known in interiors as the "spathroom", halfway between a loo and a hammam. It also explains why L'Oréal bought Aesop for more than $2bn, why Celine sells $94 soap bars, why Raf Simons has collaborated on towels with Kvadrat – and why so many of Roman's Succession scenes took place in his big glass bathroom. Put simply, it's a room for Instagram. "When I was growing up, the bathroom was tiny – particularly [in Scandinavia] – you basically had a shower on the toilet. The idea of a big bathroom was a luxury, despite the fact that you start and end the day there."
So what's going on? For one, fashion loves a gateway drug. Usually a non-essential luxury item which – though expensive – is also cheaper, relatively speaking, than most of the stuff they sell. Such items are popular because they drive revenue (more than actual clothes) while also allowing you to look like the sort of person who can afford luxury clothes when you most probably can't. It used to be matches. Now it's towels. You can buy floral versions from Dolce & Gabbana and hand towels from Hermes. Chanel even gift them to their (their words) "best customers."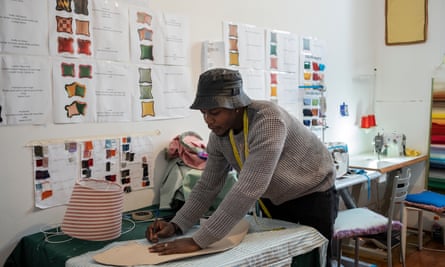 Robert Rabensteiner, is a renowned menswear stylist who has just collaborated with Pangaia on a range of "organic cotton bathrobes". At fashion week, you'd see Rabensteiner wearing coats from Loro Piana or sweaters from Bruno Cucinelli. But now you're more likely to see him in "spa wear, let's call it that", he says. "I am a kimono man, I wear them like tuxedoes." Inspired by Il Pellicano and Palm Springs, these are "towels to wear to dinner, towels as clothing."
Paboy Bojang, Founder of In Casa by Paboy, makes ruffled towels in contrasting colours which he describes as "an extension of our wardrobe", while Anna Fahey of Baina, whose chequerboard towels have become the towel of tomato girl summer, says it's less about trends and more about "elevating an everyday object through a season-less approach". In short, towels to be seen, towels for the bathroom – but also your feed. Juhl's towels feel slightly more prosaic and functional. "People come in with photos of their bathrooms and paint samples so that they'll match colours," he says."But they're also good for, you know, drying."
To read the complete version of this newsletter – complete with this week's trending topics in The Measure and your wardrobe dilemmas solved – subscribe here to receive Fashion Statement in your inbox every Thursday.