The forthcoming production of Lee, the film starring Kate Winslet based on the life of Lee Miller, has one scene in which Winslet is seen reclining in a two-piece swimsuit of the kind that a decade later would be called a bikini. It is the 1930s, when the item would have been considered "scandalous", but it showed how the photographer and war reporter liked to defy convention. Now the bikini, along with other items from Miller's wardrobe, has been discovered in the attic of her old home and will go on display alongside some more of clothes for the first time.
Lee Miller: Dressed, an exhibition set to open at Brighton Museum in October, brings a fashionable perspective to the life and work of the American photographer. It will include a red dress possibly created by Italian designer Elsa Schiaparelli, the bikini and Miller's war uniform
Martin Pel, the curator, says the pieces tell the story of Miller's life and rebellion against the norms. The bikini – dated to 1937 – was a case in point. It predated the fashion by around a decade. "It would have been scandalous, really incredibly racy, to have worn it 10 years earlier," says Pel. Miller also wore jodhpurs when trousers were not worn by women, and lent a black fur coat to her brother John, who sometimes wore women's clothes. These are also included in the exhibition. "She really didn't care what people thought," says Pel. "Lee absolutely lived on her own terms."
Miller will become a talking point again this autumn. In addition to the exhibition and film, there are two books published by Thames & Hudson.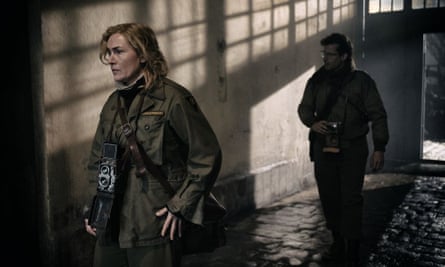 Glamorous and beautiful, and part of a circle that included Picasso and Man Ray, Miller has finally emerged from these associations over the last 20 years to be rightly lauded for her brave and uncompromising images from the end of the second world war.
But Miller also has an important place in the history of fashion and fashion photography. "She's become so well known for [the war images] that the fashion stuff is overlooked," says her granddaughter Ami Bouhassane, who is also director of Farleys, the Sussex house that Miller lived in from the late 40s onwards. "We have sixty thousand negatives, and the war work that most people think of is only the last 18 months [of her career]."
Miller grew up in New York state and began her career as a model, working for Man Ray in Paris after convincing him to take her on as an assistant as she was familiar with photography. Romy Cockx, curator of the recent Man Ray and Fashion show in Antwerp's Momu, says Miller influenced Man Ray's fashion imagery. "On the one hand she was a model and on the other he was learning how to become a photographer from her."
"I think the interplay of these elements made it sometimes like a dialogue between them."When war broke out in 1939 Miller was an established photographer and worked for Vogue. In the early part of the war she created images that managed to turn uninspiring briefs from the Ministry of Information into creative images for the magazine. "We've a whole series of fashion images with models looking nonchalant next to some hairy mammoth in the Natural History Museum. She had this amazing imagination," says Bouhassane.
Although there were other women working in photography in the 1930s and 40s – Cockx points to Berenice Abbott, also mentored by Man Ray – Bouhassane says Miller's determined rise to the top came from her background. "Her parents gave her this incredible gift of treating her equally to her brothers," she says. "Her natural bass line was in the space of equality. So when she hit these walls of 'no, you can't do that because you're a woman', and 'women don't run their own business', she's like, 'yes, I can.'"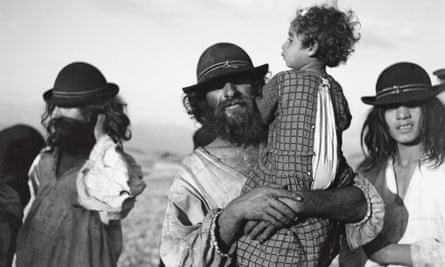 Pel says this attitude is borne of her approach to clothing– through both an irreverence, and a desire for functionality. "I think she loved sort of shocking peopleand doing things out of the ordinary," he says. "Her attitude to clothing [also] reminds me of a heterosexual man's attitude to dress– she just wants it to work."Michael O'Connor, costume designer for Lee, studied images of Miller prewar: on the beach in the south of France with Picasso and Paul Eluard, wearing the bikini, a design they replicated for the film. "In those days Lee knew how important clothes were," he says. "She was part of a set of dapper people – she's sitting on a picnic blanket with Picasso and she's a confident part of that scene."
The film focuses on Miller's life during the end of the war, but even in this period "her eye for fashion was so acute," says O'Connor. "Audrey Withers, the editor of Vogue, had Miller's Class A uniform tailored on Savile Row, we know that from the label in the original. So Winslet went to Savile Row to have hers tailored." Withers is also said to have sent Miller nice underwear "so she could feel feminine" even under horrific circumstances.
Miller was traumatised by the war and stopped taking pictures soon after. However, her influence can be seen in postwar photography. "The way she brought this more humane aspect to fashion photography influenced British photographic trends in the 60s, reemerging in the work of Lord Snowdon and David Bailey," says Cockx.
There's also the now familiar switch from model to photographer – a move that other women including Corinne Day have made recently. Bouhassane says: "She'd been a model so she knew what it felt like to be on the other side of the camera. We've got some really great shots where she's having a giggle with the models, they seem really relaxed."