Laura Sutcliffe

Louise Redknapp looked incredible on Instagram wearing a white see through lace top to announce she will be doing a live gig ahead of her Greatest Hits album release.

On Monday, the beautiful Louise Redknapp stunned fans with some fabulous news, and also, a fab outfit to boot.
Taking to Instagram, the mother-of-two donned a white lace top which she teamed with a black bra as she proceeded to tell fans she has an upcoming gig which will coincide with the upcoming release of her Greatest Hits album.
WATCH: Louise Redknapp stuns in designer dress with striking detail
The 48-year-old said: "I'm super excited to announce a very special show at London's Shepherd's Bush Empire on Thursday 1st June to celebrate the release of my Greatest Hits album.
"I wanted to do something extra special for you all as I've seen so many of you asking for a Greatest Hits show since I announced the album, so I've decided to make this YOUR show!
READ: Louise Redknapp shows off her unreal abs in stylish sports bra and leggings
"I want to know which tracks you'd like me to perform! Anything from the last 30 years; from Eternal, solo tracks, album tracks, B-sides to covers, your input is very important to make this an extra special show! I'll also be asking you to submit your questions for a Q&A during the show AND I'll be joined by some VERY special guests on the night!"
We can't wait!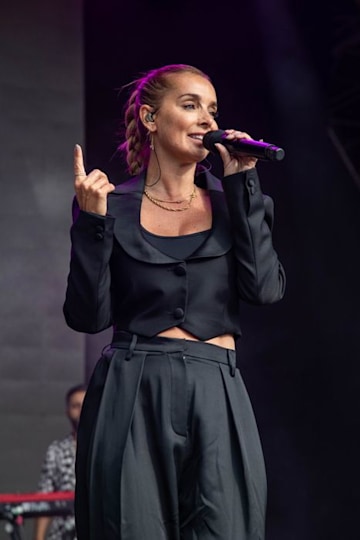 Louise has lots of new work ventures in 2023 – including a greatest hits album
There's been so much buzz about Louise's upcoming album. Taking to Instagram on Friday, the singer posted a photo from the latest album cover, and it's already sparked a major reaction from fans. Pictured in a sultry velvet bodycon dress, complete with a statement gold bracelet, Louise couldn't have looked more glamorous.
READ: Louise Redknapp shows off incredible physique in backless crop top you don't want to miss
With her hair styled in beachy waves, and her makeup made up of radiant nude tones, the mum-of-two is an absolute vision. Penning an announcement to her 766k followers, Louise wrote:
MORE: Louise Redknapp totally wows in slinky belly top on Lorraine
"Here it is… the cover for the 'Deluxe Edition' of my new Greatest Hits album. I wanted to create something extra special for you all to celebrate this 30th Anniversary so not only does this format have all of my solo singles plus 4 new tracks it also includes 9 reimagined classics from my solo and Eternal back catalogue."
LISTEN: Today's best celebrity news in just 2 minutes
Like this story? Sign up to our HELLO! Mail newsletter to receive all the latest royal and celebrity news straight in your inbox.