Canada's Aritzia is winning over Gen Z with 'everyday luxury,' with U.S. sales surging 80% over past year
Article content
Aritzia Inc. is winning over American teens and 20-somethings with a playbook that looks out of step with today's often bleak retail environment.
Article content
The company offers high-touch service, including personal shoppers. Discounts are rare. And it's making locations bigger instead of shrinking them.
Article content
"The stores are beautiful, and the service is excellent," said Mark Petrie, analyst at CIBC World Markets who has covered Aritzia since it went public in 2016. "It's a compelling intersection of value and quality where not a lot of other brands live."
Executives call that intersection "everyday luxury," and it plays out with offerings ranging from US$400 double-breasted wool coats to US$80 mini dresses. That strategy is clicking in America, where Vancouver-based Aritzia began accelerating store openings a few years ago. U.S. sales over the past 12 months through November have gained 78 per cent to $1 billion and are now bigger than its Canadian business, where its first store opened in the 1980s.
Article content
On Wednesday, the company reported sales and adjusted earnings for its third quarter that topped analysts' estimates. Aritzia forecast revenue for the current quarter to be as much as $600 million, surpassing analysts' projections of $525.9 million.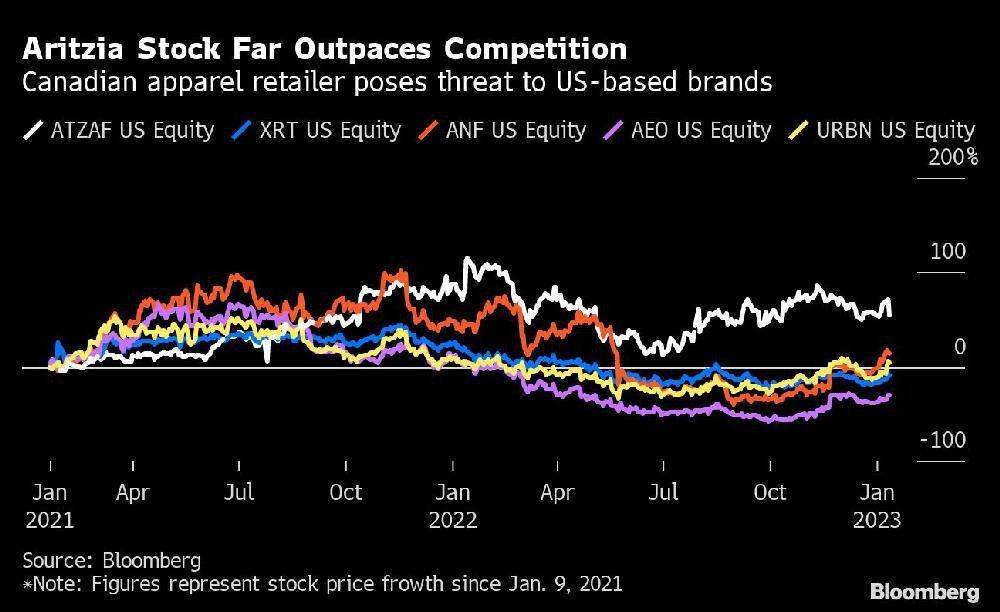 But some analysts were concerned about narrowing profit margins from rising costs. The stock declined on Thursday, but over the long term investors have been rewarded. Aritzia shares are up about about 75 per cent over the past two years, while the SPDR S&P Retail ETF sank 8.1 per cent and the S&P 500 gained 4.8 per cent.
Aritzia stands out with a meticulous focus on customer experience. A team of architects and designers develops each location individually, creating a "bespoke mix of local influences, natural materials, custom furniture and art," according to the company's website.
Article content
Trying on clothes is also different. Most stores don't have mirrors inside the dressing rooms, and instead have communal ones that require customers to step into a public area to see how items fit. This promotes more interaction with associates to help with styling and recommending additional products.
The stores are beautiful, and the service is excellent

Mark Petrie
Its packaging aims to be an outlier, too, with online orders carefully folded and packed inside Aritzia's crisp, white shopping bags to mimic in-person shopping.
The brand has had the advantage of being a fresh concept in a U.S. market where many big apparel companies such as Gap are losing their lustre. Aritzia also has plenty of room to win new converts because it's still relatively unknown. The company hasn't done much mainstream marketing. It has instead relied on stores to build awareness. It has fewer than 50 in the U.S., but with plans to open seven this year.
Article content
All this likely adds up to market share losses for U.S. competitors, according to Neil Saunders, a U.S.-based analyst at consulting company GlobalData.
"This threat will only grow, if Aritzia keeps on its trajectory of success," Saunders said.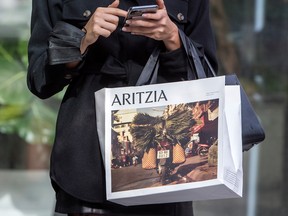 Brian Hill, who comes from a family of Canadian retail executives, opened the first standalone Aritzia store in an upscale shopping mall in Vancouver in 1984. The purpose was to serve "young women who have significant disposable income, but don't want disposable clothes," Hill said in a 2009 interview that came at a time when fast-fashion chains such as H&M and Forever 21 were booming.
About 20 years after its founding, Aritzia operated just 15 stores. But following an investment from private equity firm Berkshire Partners, expansion accelerated, and the chain entered the U.S. in 2007. When Aritzia went public a little less than a decade later and raised $400 million, it had about 75 locations. (Now it runs 113.)
Article content
Hill stepped down from the chief executive officer role last year and now serves as the company's executive chair. He's still Aritzia's biggest shareholder with nearly 19 per cent of the equity and also controls about 70 per cent of the voting power. Jennifer Wong, who began her career at Aritzia as a style adviser in 1987 and worked her way up the ranks, became CEO in May.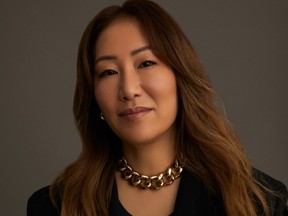 "We are very well known and loved in Canada," Wong said in an interview. And now "we want to get famous in the U.S. It has really taken off in the last few years."
On a recent weekday afternoon in New York's Soho neighbourhood, the Aritzia on Broadway was one of the few crowded stores. Shoppers tried on coats over their street clothes to avoid long lines for dressing rooms. Others lounged on leather sofas or grabbed complimentary matcha tea.
Article content
A block north sits another Aritzia location called Super World, dedicated solely to the Super Puff, a goose down jacket that sells for as much as US$350 and took off after Kendall Jenner wore it in a 2018 Instagram post.
Super World is one of about 10 in-house brands the company uses to target different parts of the market. A line called Wilfred is "whimsical modern," while another dubbed Tna is "youthful lifestyle," Hill said during an investor presentation in October. In all, they generate about 95 per cent of sales.
Aritzia notches record revenue amid higher costs from warehouses, labour, inflation

'Don't take no for an answer': Jennifer Wong's remarkable rise from Aritzia salesperson to CEO

Aritzia sets sights on U.S. growth following pandemic-era success

Aritzia founder Brian Hill hands CEO duties to Jennifer Wong, stays as executive chair
Article content
Aritzia has reached this point without spending a lot on traditional ads. Besides paid influencer partnerships, much of its marketing success has come organically, in part because it counts celebrities such as Meghan Markle as fans. An active Reddit page with over 25,000 members is dedicated to product reviews and recommendations.
Customer loyalty allows Aritzia to get away with a stricter return policy — 10 days to bring back an in-store purchase, versus the industry norm of 30 days. It also rarely discounts, aside from two annual sales events.
"It's a habit of buying at full price, which is really healthy for any retailer," said Martin Landry, an analyst at Stifel Financial Corp.
With any fashion success also comes the risk of consumer attention switching to the latest TikTok trend or direct-to-consumer brand. Even so, all seven analysts tracked by Bloomberg who cover Aritzia recommend the equivalent of buying the company's stock.
"Sometimes it keeps me up at night to think what's the quarter when this breaks?" said Dylan Carden, an analyst at William Blair & Co. "But I've been thinking that now for the three or four years that I've been covering it. They are just exceptional merchants."